Shepherd for a day in Urkiola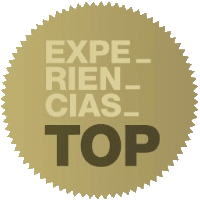 The shepherd Patxi Solana invites you to share his everyday life in one of the most stunning landscapes in the Basque Country, the Urkiola nature park.
We will begin our adventure in the country house in the area where the farm and cheese dairy are situated, assisting Patxi in milking the sheep, and, if it is the correct time of year to do so, we will also help to shear them. 
We will do wool whorkshop
Following this, we will enjoy a stroll through the fields of this stunning natural setting, accompanied by Harri, the Border Collie sheepdog. You will be amazed at Harri's deftness at rounding up the Basque latxa sheep from one field to another, following the orders of the shepherd.
And what better way to cap the day than with a tasting session of the famous Idiazabal Designation of Origin cheese, with the people who produced it.
Naturaleza en estado puro

Rebeca, Naia e Ibai - 2017-07-18

Cuando vienes de ciudad y encima no has tenido la oportunidad de criarte en un entrono rural, ni siquiera en periodos vacacionales, disfrutas esta actividad de manera extraordinaria. Pasé junto con mis hijos una mañana muy gratificante en la que Patxi, con mucha gracia, nos explicó un montón de cosas y una perspectiva de del mundo del pastor que no es fácil de saber a no ser que alguien como él te la cuente. Repetiría sin duda......por cierto, el queso está de muerte!!

UNA GRAN EXPERIENCIA

MARTA TEMIÑO - 2016-12-07

Nos ha encantado, una gran experiencia. Patxi nos ha explicado como elaboran el queso, hemos podido hacer cuajadas, estaban riquísimas, y luego hemos ido con los perros a ver las ovejas, donde las hemos dado de comer y nos ha explicado como se ordeñan. Por ultimo hemos ido a dar un paseo hasta donde estaba el rebaño.
Por cierto Patxi, el queso buenísimo.

Mila esker,

Marta, Jose eta Oier


Me gusta

Iñigo - 2016-05-04

Nos recomendaron la experiencia, y la verdad es que nos encanto. Los quesos estaban buenísimos.

Un dia que siempre recordaremos

Josep Maria Estelrich - 2015-12-10

Pasamos la mañana con el pastor enseñándonos que significa su oficio, desde que levanta hasta que se acuesta, los pros y los contras de su trabajo. Enmarcado en un valle precioso nos enseñó a hacer cuajada mientras charlábamos de como es su vida ahí en medio del campo; mientrastanto los niños estaban haciendo un taller de lana en la sala contigua. Después fuimos con los perros a ver las ovejas, donde viven, que comen y sobretodo como se ordeñan. Los niños y nosotros nos lo pasamos muy bien. Luego fuimos a dar un paseo con los perros y dimos un biberón a las ovejas pequeñas. Un paraje precioso y un trato excelente el del pastor. y el de la chica que estuvo con los niños. Gracias por todo, Atentemente JM. Lo recomendamos 100%

Me ha econtado

Marta - 2013-08-01

Somos de Madrid y saber lo que es ser pastor por un día nos ha gustado mucho. Ademas los quesos estaban buenísimos.

We work with local suppliers and the confirmation of availability is not always immediate. In order to have enough time get the confirmation, please make your reservation at latest before 18:00 the day before the activity. For activities that take place on Monday, please mek your reservation before friday at 18:00.
Includes: Milking Sheeps
Shearing sheeps if it is season.
With Milk to make curd or with the whey you make soaps
Walk trough the meadows
Idiazabal cheese tasting

Do not includes: Displacements

Minimum & Maximum of participants: No minimum

Geoposición2 (Latitud, Longitud): 43.12415,-2.622152

Duration: About 3 hrs

When to go: Saturdays and Sundays at 10:00 hrs
From Monday to Friday it is reserved for large groups



Hour & Meeting Point: 10:00 hrs Barrio Mendiola 25
(Abadiño, Bizkaia)

Languages: Spanish and Basque
English upon request from Monday to Friday (bilbaodmcmice@viajesazulmarino.com)

Important Notes: Book at least 48 hours prior
Children can not do the activity without the company of an adult.