Cider and the sea, with lunch at a cider house on the way out of San Sebastián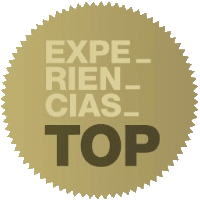 Discover the link between whaling and cider and taste the cuisine linked to this, visiting museums, taking a boat trip and having a meal at a cider house.
We'll begin the experience in San Sebastián with a guided tour of the Aquarium and a boat trip on the stunning bay of La Concha and its surrounding area to learn from our guide all about the historical link between cider and the Basque coastline around San Sebastián.
We'll leave San Sebastián behind to travel to the small town of Astigarraga, either by car or on public transport, where we'll visit the cider museum, the ideal place to get to know the culture of cider in the Basque Country. Naturally, we'll be able to enjoy an authentic cider house meal: cod, cod omelette, T-bone steak, Idiazabal cheese and walnuts, and above all plenty of cider. In the company of a guide, you'll discover the secrets of the ritual of "txtotx" (cider from the barrel).
Muy recomendable

Familia Mitjana Cruz - 2016-07-19

Hoy hemos tenido el placer de conocer a Miren, nuestra guía en esta excursión. Nos ha explicado mil y un secretos de Donostia. Mis hijos han alucinado con el Aquarium y el paseo en barquito. Todos hemos disfrutado mucho comiendo en la sidrería y bebiendo su sidra.
Nos ha encantado!!
We work with local suppliers and the confirmation of availability is not always immediate. In order to have enough time get the confirmation, please make your reservation at latest before 18:00 the day before the activity. For activities that take place on Monday, please mek your reservation before friday at 18:00.
Includes: Bisita gidatua sagardoetxean, Euskal Sagardoaren Museoan.
Bazkaria sagardotegian
Paseo gidatua itsasontzian, Kontxako badian
Bisita gidatua Aquariumean. (Alorrenea)

Do not includes: Does not include travel to the location of the experience
Transfer from San Sebastián to Astigarraga not included; clients must organise their own travel, either in a private vehicle or on public transport.

Minimum & Maximum of participants: Ez dago ez maximorik

Duration: 4 hrs 30 min

When to go: From June to September

Languages: Basque, Spanish, English and French

Important Notes: Only the 10.00am time slot is available on Sundays.